Executive Leadership
Commissioner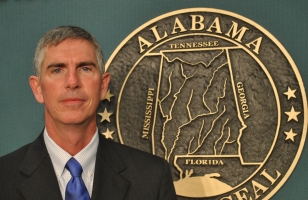 On January 17, 2011, Governor Robert Bentley appointed Mr. Kim T. Thomas as Commissioner of the Alabama Department of Corrections.
An interest in criminology and corrections led Thomas to study at Marshall University in West Virginia where he earned a Bachelor of Science degree in 1983. Upon graduation, he relocated to Alabama and began his career with the Alabama Department of Corrections, graduating from the Correctional Academy in the fall of 1983.
For the next eleven and a half years, Thomas rose through the ranks as Correctional Trainee, Correctional Officer, Correctional Sergeant, and Classification Specialist at a maximum security facility. While employed with the Department, Commissioner Thomas attended the Birmingham School of Law and earned his Juris Doctorate in 1993. In April 1995, he was given the privilege of representing the employees of the Department in the ADOC Legal Division as an Assistant General Counsel.
Prior to his appointment as Commissioner, he served as General Counsel for Commissioners Donal Campbell and Richard Allen. Commissioner Thomas is a member of the Alabama State Bar Association, American Correctional Association, Southern States Correctional Association and the Association of State Correctional Administrators.
James Deloach, Associate Commissioner for Operations
Commissioner Deloach is responsible for ensuring the effective daily operations of prison facilities. He supervises the Classification Review Board, the Training Division, the Transfer Division, and the Institutional Coordinators. Mr. Deloach began his career with the Department in 1976 as a Correctional Officer and worked his way up through the ranks to Warden III at the Draper Correctional Facility. He accepted his current position on July 2, 2007. Commissioner Deloach graduated from Alabama State University with a Bachelor of Science degree in Criminal Justice and is also a graduate of the Montgomery Police Academy.
Terrance G. McDonnell, Associate Commissioner for Plans and Programs
Commissioner McDonnell is responsible for the Central Records Division, Research and Planning Division, Supervised Reentry Program, Religious Programs, Educational and Vocational Education Programs, and Victim-Constituent Services. Commissioner McDonnell began his career with the Department in 1981 as a Correctional Officer at the Staton Correctional Facility and worked his way up through the ranks to, most recently, Warden III at Kilby Correctional Facility. Commissioner McDonnell has a Bachelor of Science degree in Criminal Justice and a Master of Science degree in Criminal Justice, both from Auburn University Montgomery.
Steve Brown, Associate Commissioner for Administrative Services
Commissioner Brown is responsible for all administrative services, to include Personnel, Finance, Procurement, Information Systems, Communications, Food Service, and Correctional Industries. Commissioner Brown served in the United States Air Force from 1973 to 2003, completing his career as the Director of Personnel for the Air Force Special Operations Command in Fort Walton Beach, Florida. Commissioner Brown has a Bachelor of Science degree in Business Administration from Auburn University and a Master of Science degree in Management Information Systems from the University of Arizona.
Ruth Naglich, Associate Commissioner of Health Services
Commissioner Naglich is responsible for the administration of medical and mental health services to over 26,000 incarcerated individuals with the ADOC's 30 correctional institutions. Commissioner Naglich has more than 21 years of healthcare administration and clinical experience, with 17 years specific to the medical specialty of correctional healthcare. Commissioner Naglich's background includes business development, education and training, public health, and correctional healthcare administration. She has served as a correctional healthcare advisor and consultant to both private and public healthcare and correctional organizations, including the Correctional Medicine Institute, a not-for profit institute formed by faculty members of the Division of Infectious Diseases at John Hopkins University School of Medicine.
Greg Lovelace, Deputy Commissioner for Maintenance
Commissioner Lovelace has served in the Department since 1999 under three different administrations and is responsible for the maintenance and construction of correctional facilities. Commissioner Lovelace previously served 24 years with the Chambers County Sheriff's Department, 21 years of which he served as Jail Administrator and Chief Deputy Sheriff. This extensive jail operations experience has proven invaluable to Commissioner Lovelace while serving this Department over the past 8 years.
Jeffery A Williams, Deputy Commissioner for Governmental Relations
Commissioner Williams began his career with the Department of Corrections in 1980 at Draper Correctional Facility as a Correctional Officer. He worked his way through the ranks to become Director of Community Corrections and was appointed Deputy Commissioner on March 1, 2011.
Commissioner Williams is responsible for the daily operations of the Community Corrections Division and serves as a Legislative Liaison, monitoring issues that affect the functioning of the Department. Commissioner Williams is also the liaison between the Department and other state and local agencies in matters affecting the functioning of the Department of Corrections.
He works closely with the Alabama Sentencing Commission promoting criminal justice reform. Commissioner Williams is a graduate of Alabama State University.
Anne Adams Hill, General Counsel
Mrs. Hill was previously with the Attorney General's capital litigation division, where she worked from 2001 until being appointed to the ADOC in March 2006. Mrs. Hill is an alumnus of the University of Alabama, earning a bachelor degree in 1997 and a Jurist Doctorate degree in 2001. From 2006 to January of 2011, Mrs. Hill served as Special Counsel to the Commissioner.